VREESAANJAENDE VERLIGTING - 2017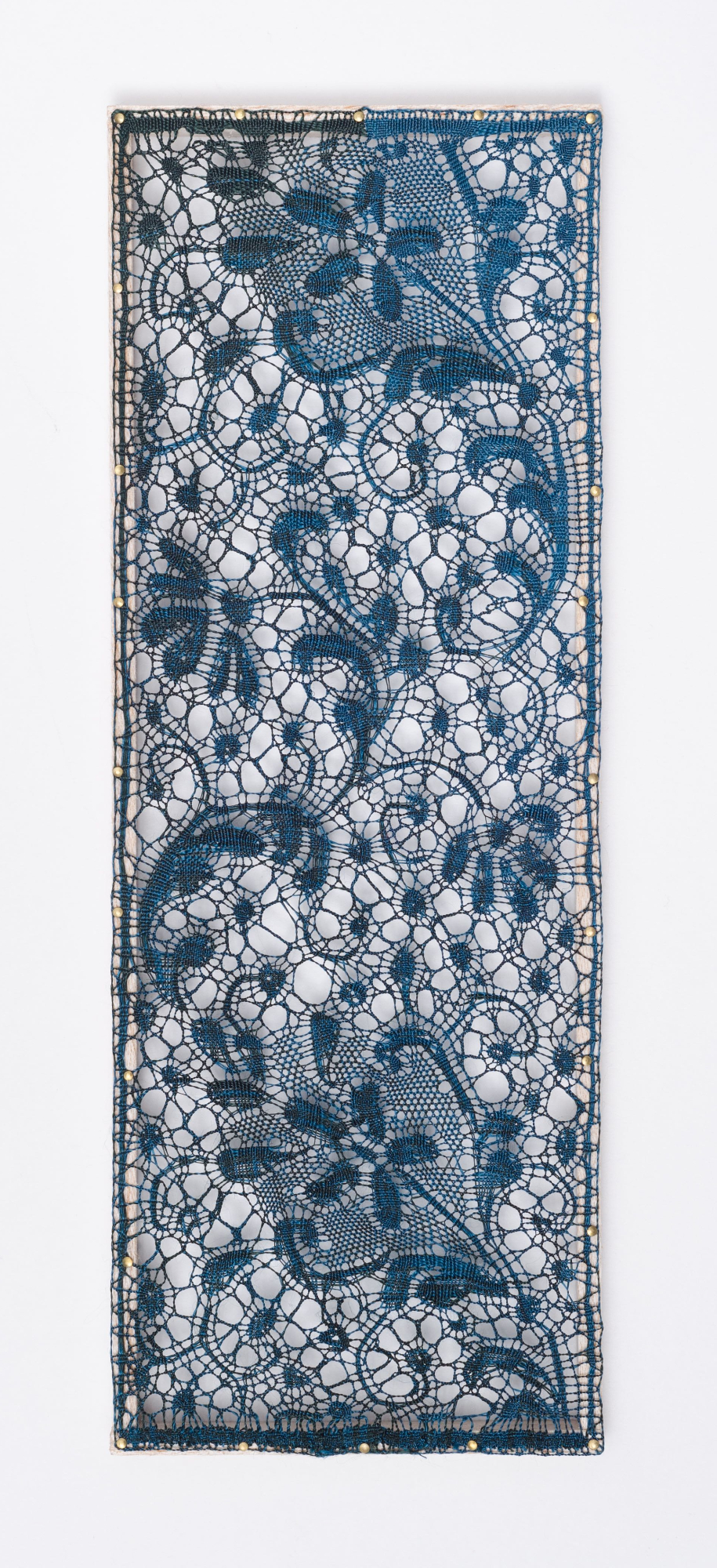 Pierre Fouché. Onskeibare Bemindes. 2016. Bobbin lace in silk, wood laminate
24.5 x 30 cm. [Based on a traditional 18th Century design as reconstructed by Ulrike Voelker]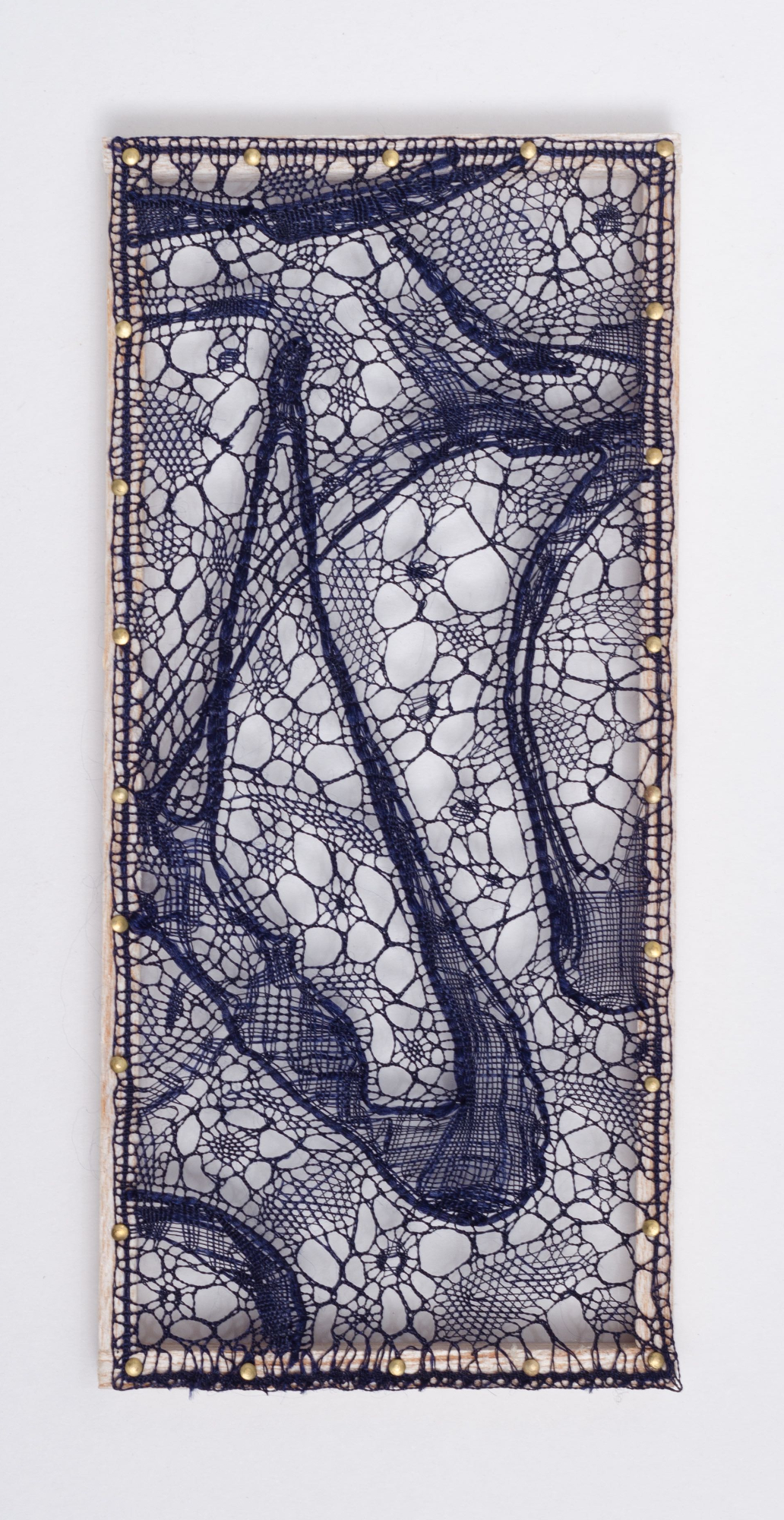 Pierre Fouché. Heelal, Kwashaal. 2017. Bobbin lace in silk, wood laminate. 24.5 x 30cm

Pierre Fouché. Tema en Variasies. 2016. Bobbin lace in cotton, wood laminate. 24.5 x 30cm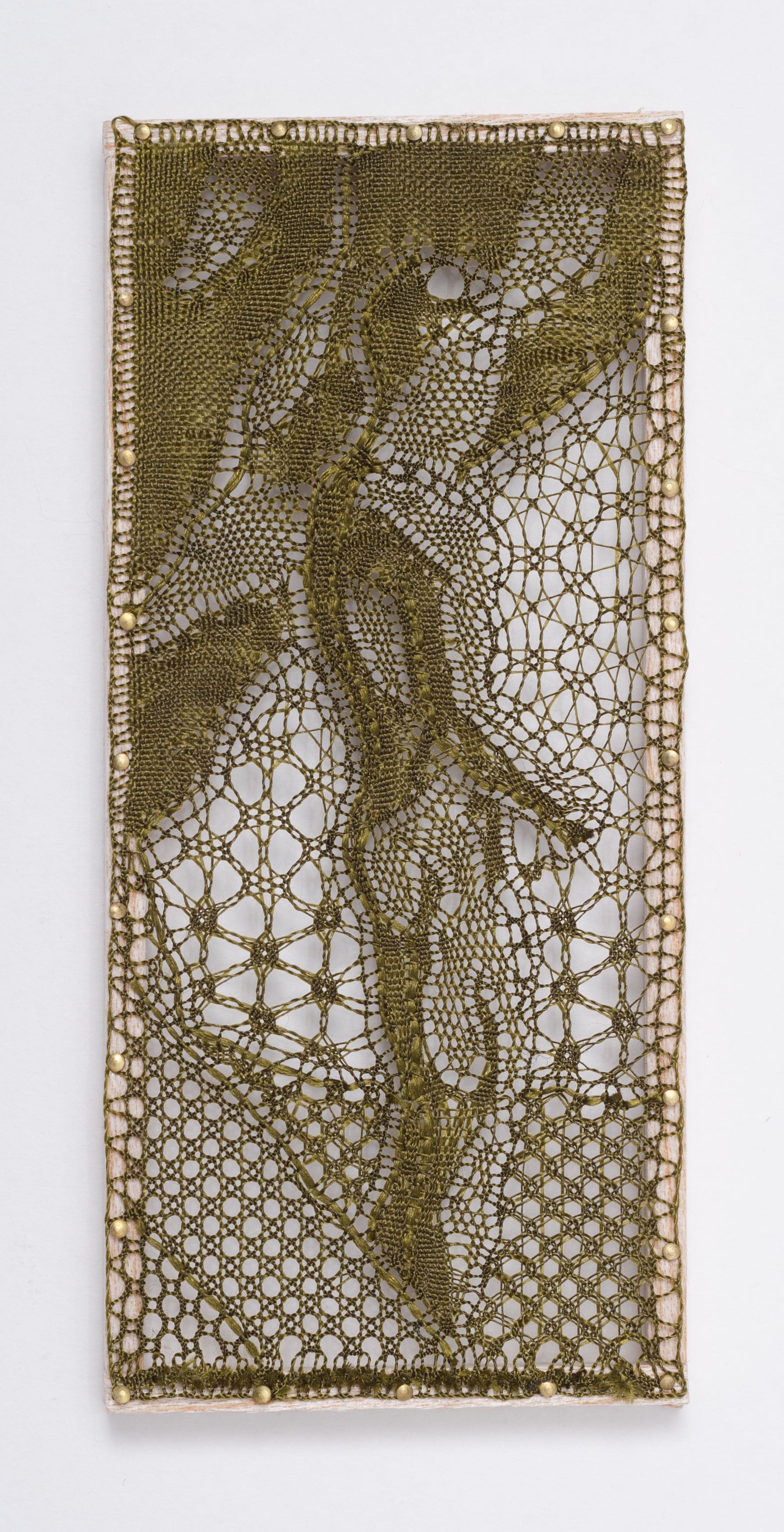 Pierre Fouché. Wat Mias Gesien Het. 2016. Bobbin lace in silk, wood laminate. 24.5 x 30cm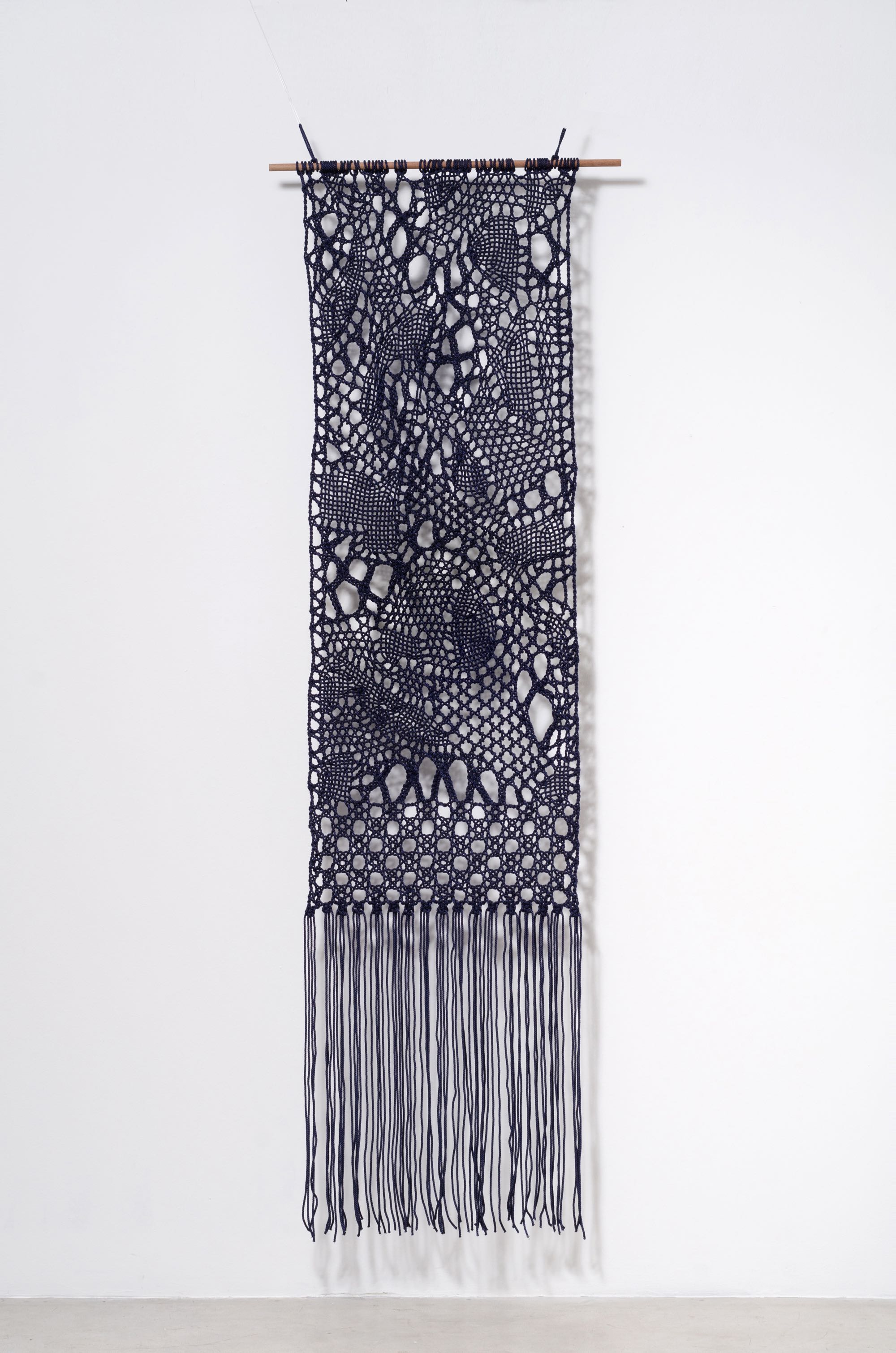 Pierre Fouché. Iemand anders II. 2016. Bobbin lace in 5mm polyester rope. 280 x 74cm.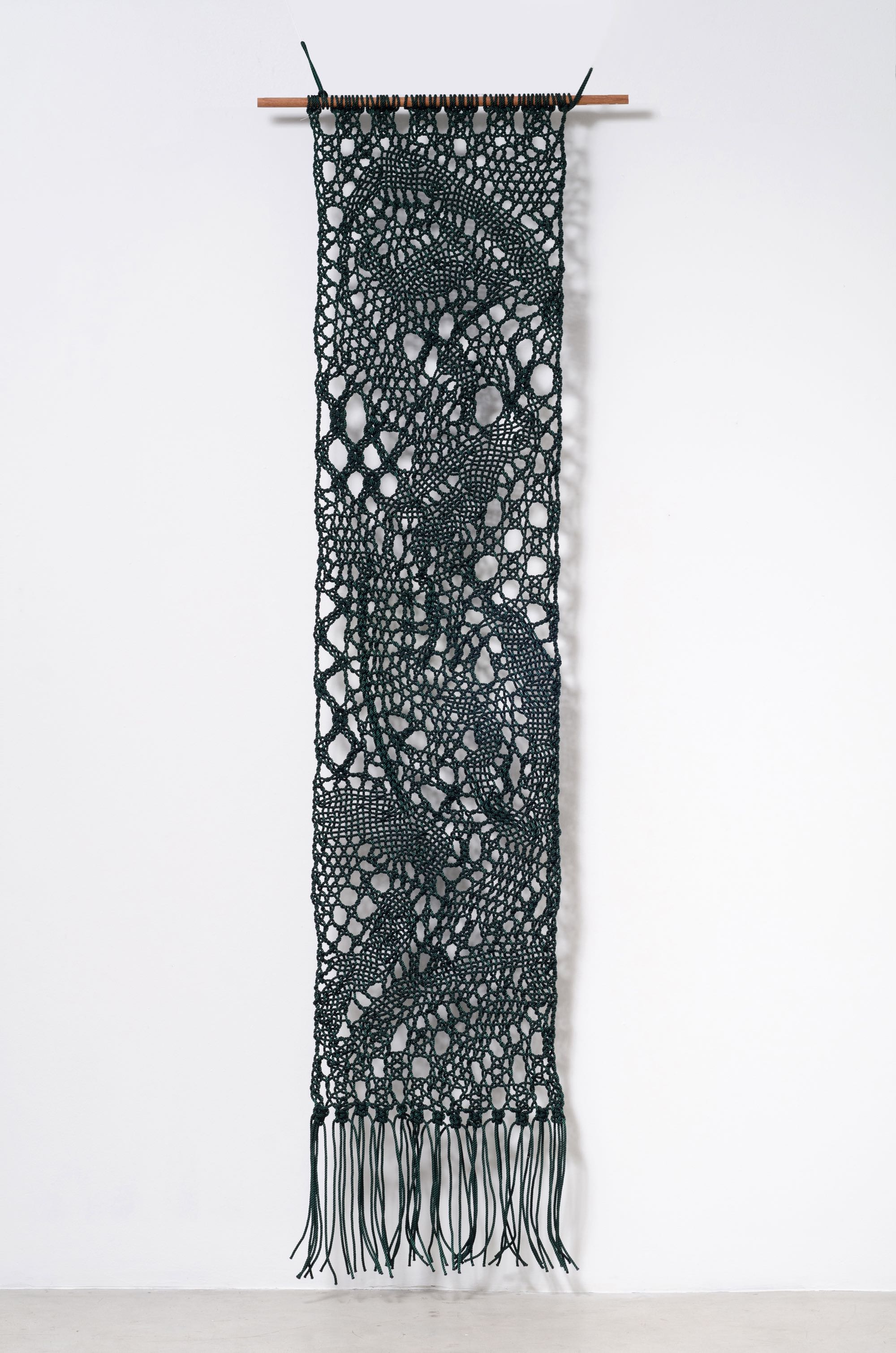 Pierre Fouché. Iemand anders III. 2017. Bobbin lace in 6mm polyester rope. 300 x 66.5 cm.
Vreesaanjaende Verligting (loosely translated as Dreadful Relief) is a cycle of artworks that uses two traditional Binche-style bobbin lace works in silk and cotton respectively as its starting point. A series of encaustic paintings follows in a response, and in turn serve as inspiration for the lace works that conclude the cycle: two large bobbin lace panels in rope and a miniature lace work in blue silk.
Encaustic, the medium of the Greco-Egyptian mummy portrait painters (and Jasper Johns), is the near alchemical preparation of beeswax, dammar resin and pigment. It creates a painting medium with unique plastic qualities that veer more towards the processes and techniques of sculpture than painting. Fouché was drawn to the medium's inherent sensuality; the studio that smells of beeswax, the paint that feels like soft butter on application, and like skin when it is set. Each layer of paint needs to be heat-fused to the preceding one. The painting process requires a quick application of paint. Creative decisions need to be made instantaneously – gut painting: a dreadful yet liberating prospect for an artist whose oeuvre has been defined by strict planning. Fouché's expressive brushstrokes are, however, the result of a consciously ritualistic, meditative process, and a close awareness, indeed a celebration of the brushstroke's decorative potential.
The cycle of works question the hierarchies of craft. The two works that initiated the cycle, Onskeibare Bemindes (2015-16) and Tema en Variasies (2016) are both based on traditional historical patterns. The subtle changes that Fouché made to the original patterns through his interpretation and presentation of them is not unlike the subtle way that many crafters sometimes make a pattern their own by changing a small aspect of it. These small changes add up through time and tradition, and, like natural selection, improve and diversify styles and techniques.
All the works in the cycle have a formal and thematic interest in the dynamics of figure and ground. The raw wood panel encaustic substrate is visible in the spaces between brushstrokes in the same way that the apertures in the textile pieces reveal the naked wood of the mounts. The only representational work in the exhibition: Wat Mias gesien het (2016) is an invitation to colour the abstract works' interpretation. This intimate little work is a voyeuristic gaze upon a male nude in a landscape. As a whole, the cycle's gnarled, explosive brushstrokes, the erotic connotations of silk, beeswax and untreated wood, and the sensuality of polished painting surfaces that appear glazed or moist imply a utopian vision of humanity and nature as one: naked, pure, and fearless.
Fouché (born 1977) achieved his MA in Fine Arts (Cum Laude) from the University of Stellenbosch in 2006. VREESAANJAENDE VERLIGTING is his thirdsolo exhibition with Whatiftheworld Gallery. Recent curated exhibitions that he has participated in include AFTER THE THRILL IS GONE at the Richmond Center for Visual Arts, Kalamazoo, WOMEN'S WORK at Iziko South African National Gallery, Cape Town, CRAFTED: OBJECTS IN FLUX at the Boston Museum of Fine Arts, and QUEER THREADS at the Decker Gallery, MICA, Baltimore. Fouché lives and works in Cape Town.
VREESAANJAENDE VERLIGTING was exhibitited at Whatiftheworld Gallery, Cape Town, 8 Jul - 2 Sept. 2017