FROM "THESE WAVES" (2012)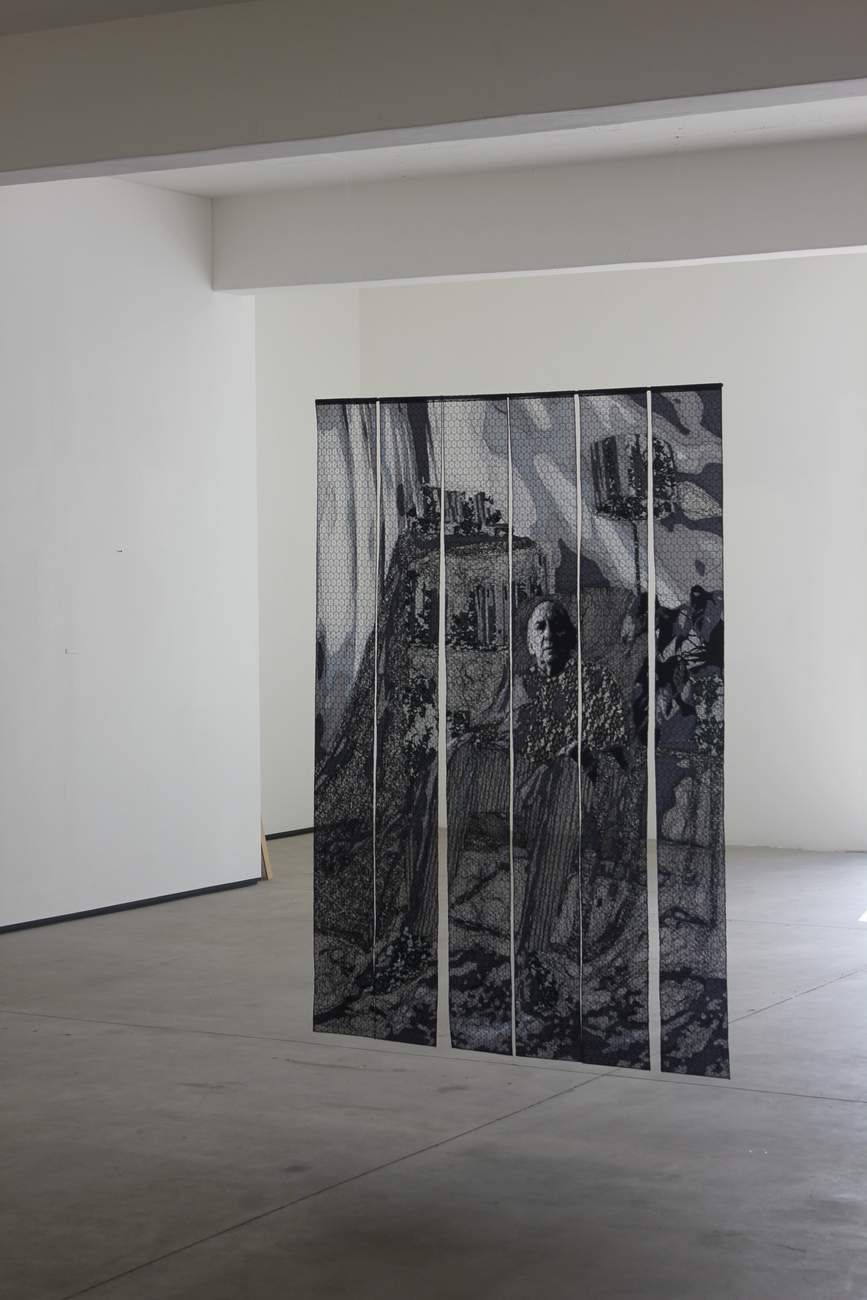 Pierre Fouché. Your young voice - a portrait of Ivan Katzen. 2012. Domestic sewing machine stitched lace, chiffon, tulle, fabric, acrylic thread in 6 panels. 1976 x 220mm each. Private collection.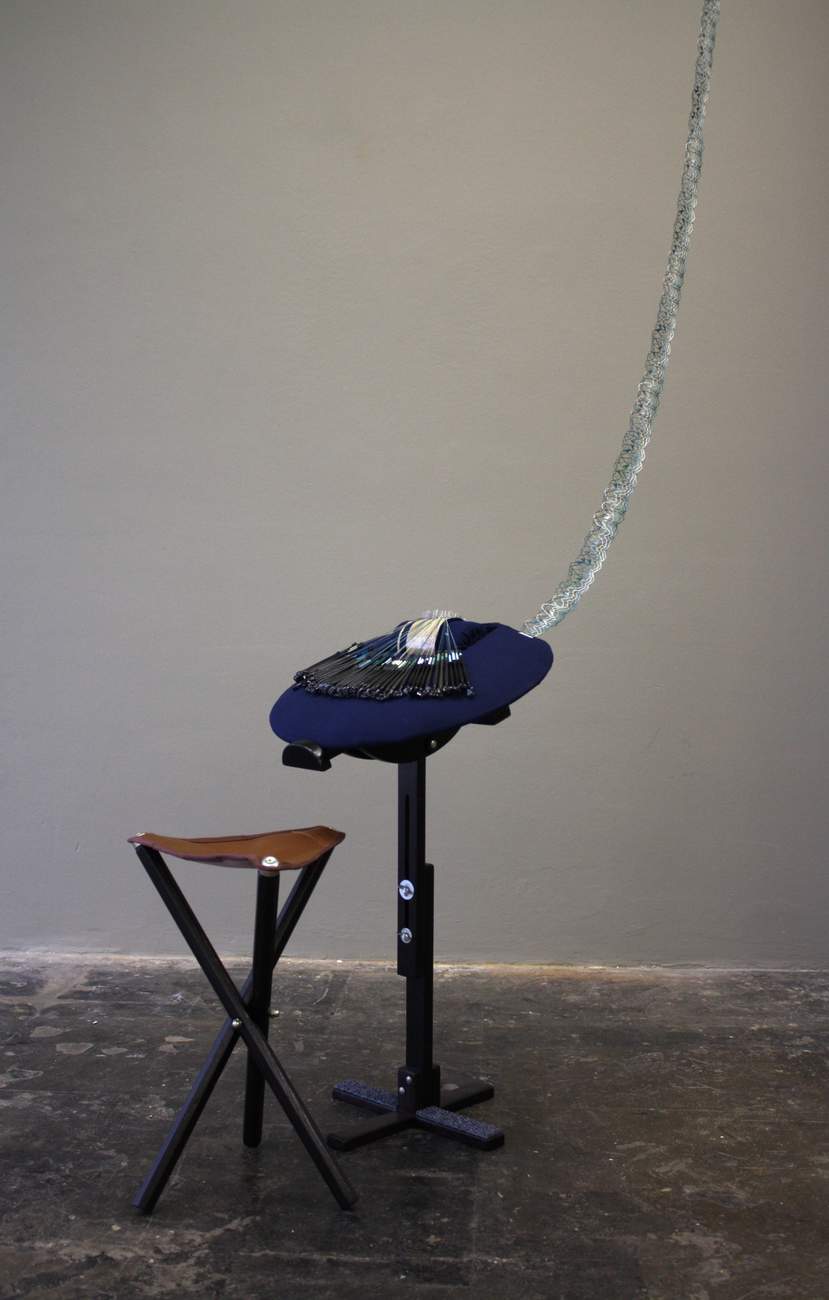 Pierre Fouché. His foam-white arms go over and round me. 2012. Bobbin lace edging with a Morse coded text woven in. Cotton, lace pillow & stand, hassock, gold kiss-cut vinyl lettering, wooden bobbins spangled with glass & lapis lazuli. Installation dimensions variable. [The result of this work in progress-installation formed part of the following exhibition "The fallen and the drowned"]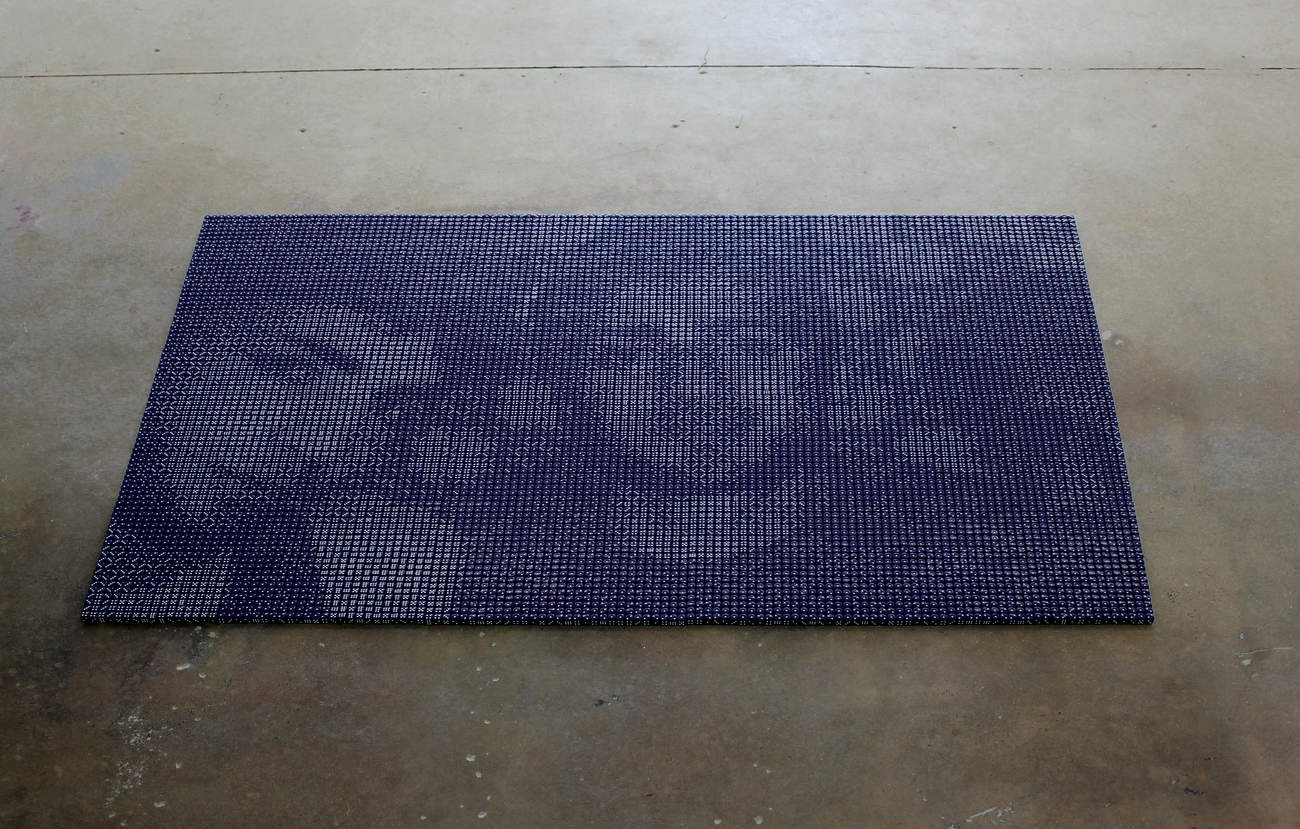 Pierre Fouché. Mahmoud & Ayaaz. 2012. 10 000 indigo dice. 2000 x 1280 x 16mm. Ed: 3+Ap. Private collections.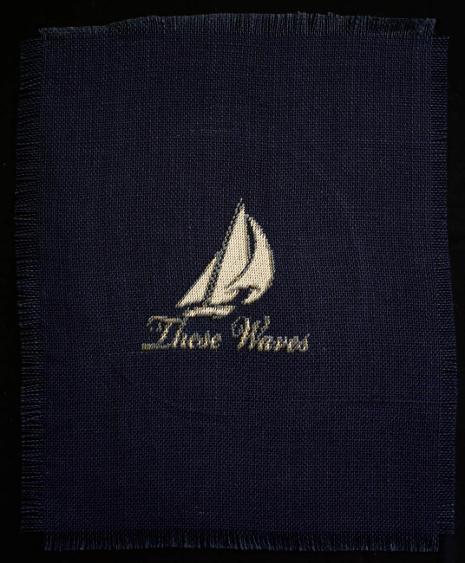 Pierre Fouché. These waves. 2012. Cotton on hessian needlepoint. 350 x 280mm. Private collection.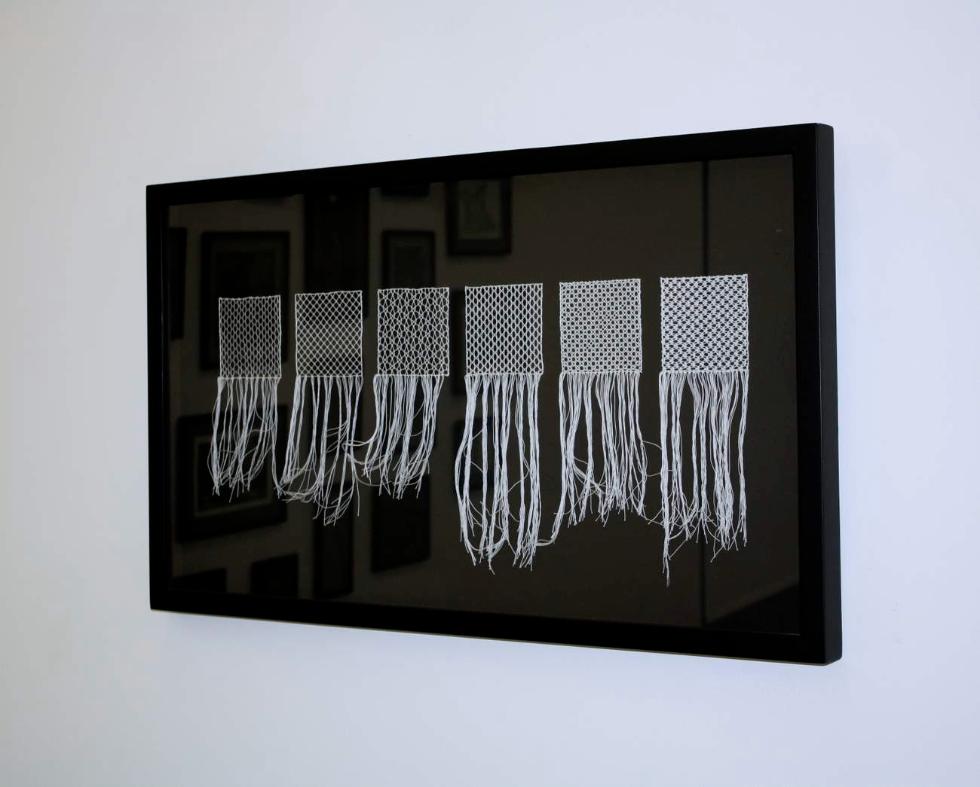 Pierre Fouché. Tronk van wier en gras. 2012. Bobbin lace ground samplers in cotton. 430 x 730mm.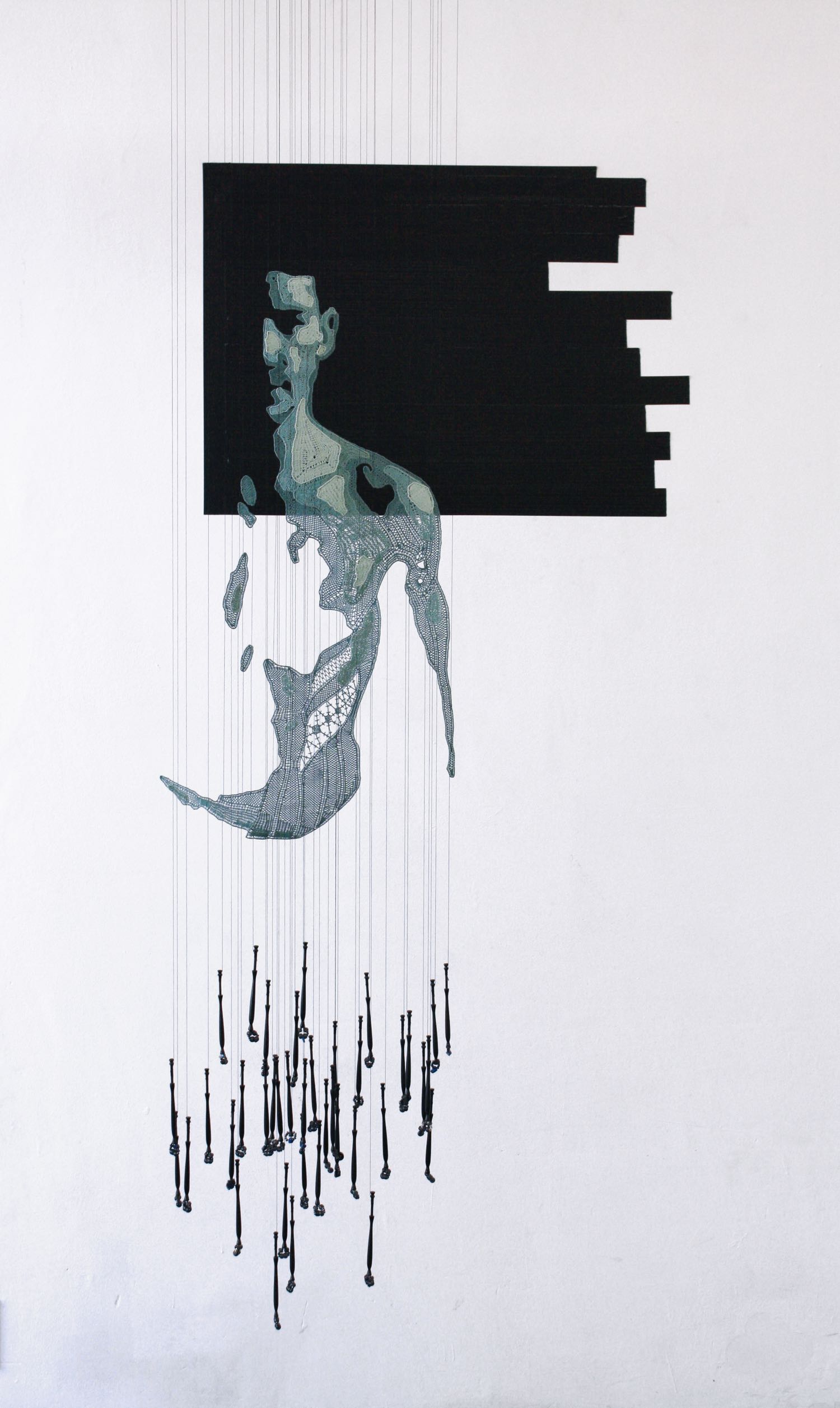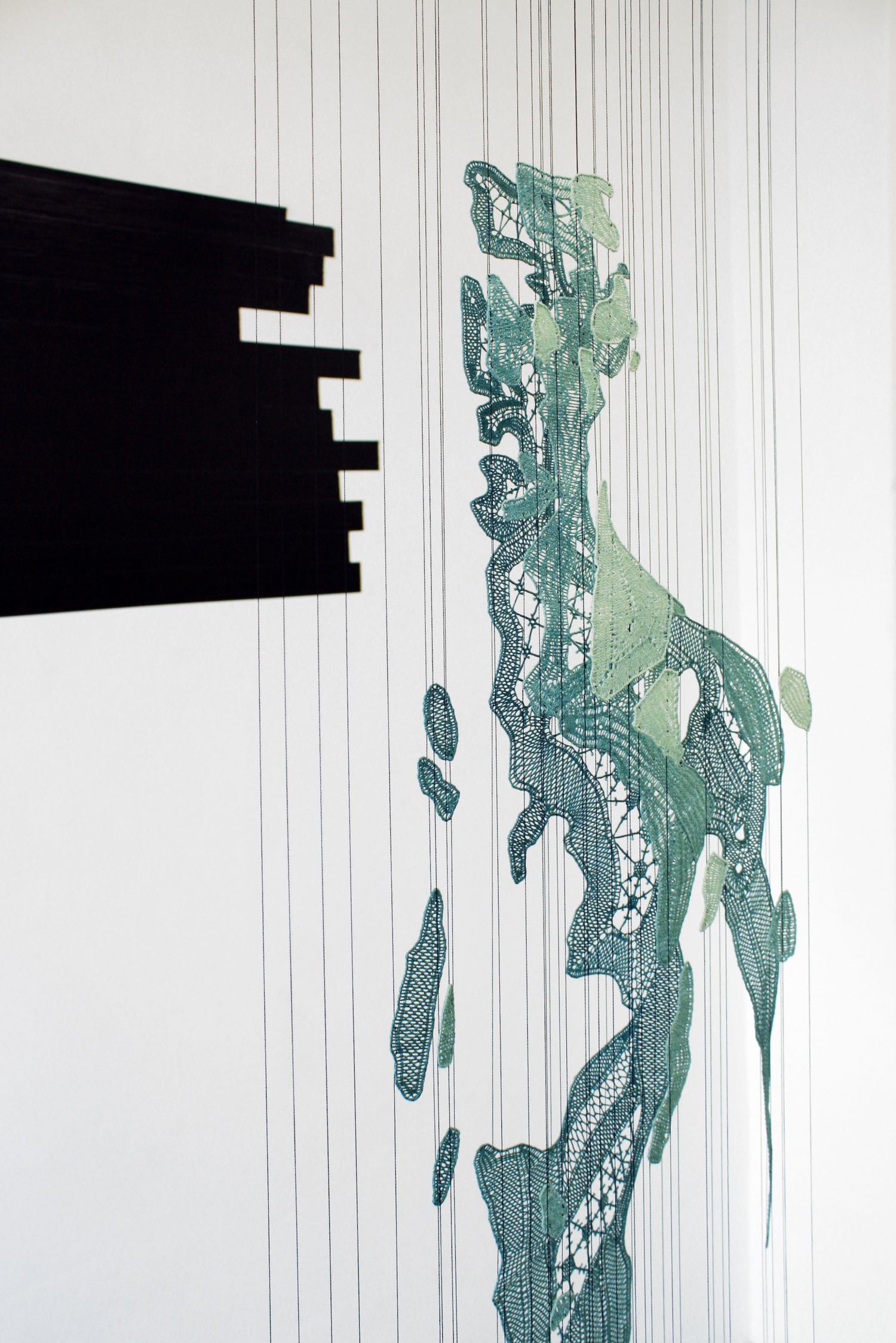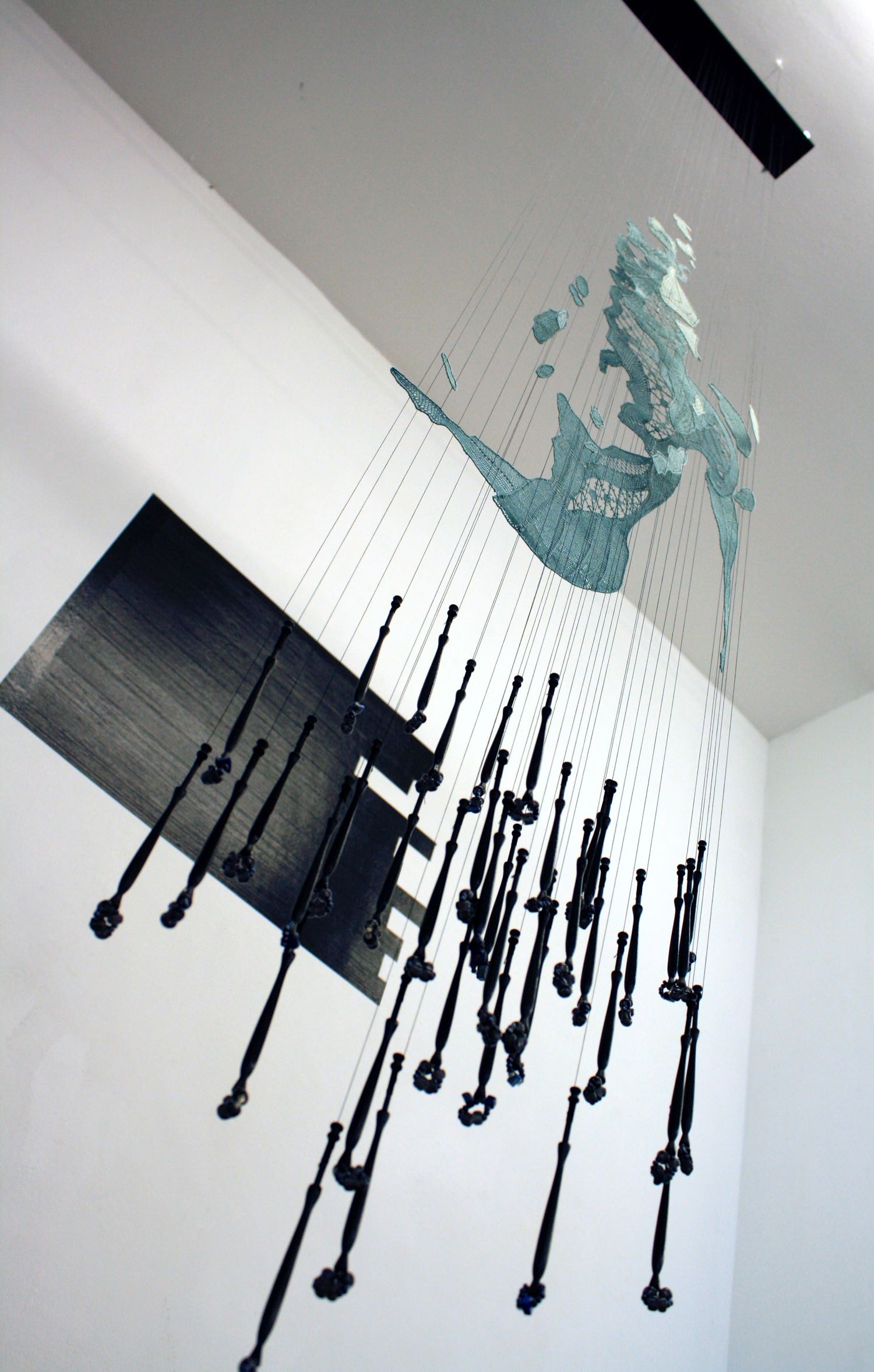 Pierre Fouché. Aiden's Metamorphosis (2010) Three layers of bobbin lace in cotton, English bobbins spangled with glass & lapis lazuli, duct tape, black polyester thread. Installation dimensions variable. Private collection.
[This work, although not exhibited as part of "These Waves", set the direction for the works of this exhibition, and is accordingly grouped in this body.]
The works in These Waves take as their impetus the torrents of time and desire, a heightened awareness of mortality, and early modern experiments with optics and capturing the transience of light, weather and human consciousness:

A lace portrait pieced together using a domestic sewing machine – of an octogenarian gay man sitting in my favourite chair (Your Young Voice – A Portrait of Ivan Katzen) contrasted with a series of voyeuristic and intimate pencil drawings of seemingly solitary young men in domestic surrounds (And the walls came tumbling down).

A 'traditional' bobbin lace edging with the story of a sailor's seduction and drowning encoded in the pattern (His foam-white arms go over and round me) is paired with an imaginary portrait of two Iranian youths, carefree and happy, as if their arrest and execution never occurred (Mahmoud & Ayaz).

Interspersed throughout the exhibition are pieces from a series of plein-air watercolour seascapes– each painted on a Sunday on a different Atlantic seaboard beach (Cyan Sundays) These 'little watercolours' are inspired by Virginia Woolf's third-person descriptions of a coastal scene in the interludes between the character-driven chapters of her most experimental novel, The Waves (1931).

My amateur status in many of the techniques employed, as well as the marginality of some of the techniques within contemporary art (watercolour seascapes, photorealistic pencil-drawings), is analogous to the works' ultimate status as originating from – and engaging with – the psyche of non-normative sexuality.
THESE WAVES was exhibited at Whatiftheworld, Cape Town 2 September - 27 October 2012